The legendary designer has a few things to say about fur and the business behind and questions those who criticise it!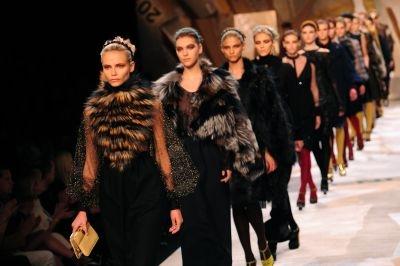 Last week animal rights organisation Peta condemned Italian fur-specialist brand Fendi following the announcement of a haute couture fur show, but yesterday the brand's creative director Karl Lagerfeld had his say defending the use of fur in fashion.
In a candid interview with The New York Times, the legendary designer behind Chanel, Fendi and his own label Karl Lagerfeld, explained fur is an industry for many Americans while questioning critics who also eat meat.
Peta UK Director Mimi Bekhechi told The Independent: "Fendi's 'haute horreur' and their hiring of Karl Lagerfeld, who dresses like an undertaker and enjoys putting corpses into his collections, is all quite shameful and pathetic."
To which Lagerfeld said: "It's very easy to say no fur, no fur, no fur, but it's an industry".
"Who will pay for all the unemployment of the people if you suppress the industry of the fur? The hunters in the north for the sable, they have no other job, there is nothing else to do. Those organizations who are much against it, they are not Bill Gates", he added.
My personal opinion
As a massive animal lover i myself am disgusted with the fashion industry as many years ago some of the biggest names in the modelling industry did a huge campaign for PETA "Id rather go naked than wear fur!".
Well thats what they said?
Big-name design houses including Dolce & Gabbana, Alexander McQueen, Prada, Louis Vuitton, Fendi and Tom Ford have been pushing fur on the catwalks, and the fur coat for the male market is a major new trend for next winter!
In the 15 years since Peta's original "I'd rather go naked than wear fur" ad campaign, we seem to have gone from a nation that equates fur with inexcusable animal cruelty to one that views it merely as an occasional fashion statement. As a measure of just how much the climate has changed, one need only look at the five supermodels featured in that first campaign.
From a line-up that included Naomi Campbell, Cindy Crawford, Christy Turlington, Claudia Schiffer and Elle Macpherson, only Turlington has stayed true to her word. All the others have, at one time or another, chosen to promote or wear real fur in the intervening years.
Christy Turlington i salute you! It really makes you wonder about other supermodels morals, are they advertising, out of what they believe in for such an amazing cause or for the money! I now believe its all about the money, how terribly sad.. I know if that was me in my modelling days i would feel disgusted to even think of charging to protest about such a disgusting cruelty to lifes beautiful creatures.
As for Karl Lagerfeld's comment fighting back against Peta and defends use of fur in fashion, saying: 'a butcher shop is worse'! How can he say such a thing when he has his beloved cat Choupette, cats along with the fur trade are also skinned alive in parts of China and surrounding areas. I am a huge cat/dog/animal lover and cannot condone any animal being treated in such a inhumane barbaric way all because of the word "Fashion"
Facts
Every year Danish fur farmers raise almost 17.2 million mink.
1,500 Danish fur farmers own the cooperative company Kopenhagen Fur.
Kopenhagen Fur is the world's largest auction house for furs and the global centre of the fur trade.
Kopenhagen Fur has a turnover of 13,4 billion Danish kroner (2,48 billion US$) per year.
Fur skins are Denmark's largest export commodity to the booming economy in Hong Kong/China.
Fur farming is Denmark's third largest type of animal farming.
The Ministry of Commerce in Denmark has selected the fur trade as one of 29 special competence clusters in Danish economic life.
Fur farming is a sustainable production that relieves the food industry of large quantities of waste cuts and by-products.
Birger Christensen one of Scandinavia's leading businessmen when it comes to fur and fashion, created by some of the biggest and the best current designers such as Prada , Lanvin , Hermes and many others.
I wonder if many animal loving Scandinavian's are aware of this and the torture these poor animals go through!!
Copenhagen
In a historic building in central Copenhagen, the lobby is filled with the murmur of cocktail chatter and the clink of glasses. The guests are up-and-coming fashion designers from around the world, flown here for an all-expenses-paid trip arranged by representatives from one of the world's largest fur companies, Kopenhagen Fur.
As part of their programme, the designers will be taken to the company's studio, where they will have a chance to look at the merchandise on offer – mink, fox, chinchilla, seal, sable, rabbit and karakul.
They are assured that the animals on Kopenhagen Fur farms are treated well, with fresh food, regular vaccination programmes and housing in open sheds. Some of the designers will visit the fur farms; some choose not to. In return for their attendance, they are then offered free samples of top-quality fur to use in their collections.
"There are loads of people on these jollies," says one designer who has worked with Kopenhagen Fur but does not want to be named. "They take you to a plush house and ply you with champagne, and at the end of it you get to work with fantastic material – they give you free fur, make it to your specifications, and then you put it down the runway and they hopefully get a lot of publicity for it."
Top Celebrities like Kim Kardashian even educates her daughter North
at such a young age that FUR is fashionable!
My opinion stands, if you want to wear fur that is fine, you cannot change everyone's opinion, but please DO NOT stress in the past and contradict yourself especially in the public eye how it is such a barbaric event for these poor animals, then parade around in a fur coat where so many animals had to die a horrific death!
Top celebrities that many women admire condone this barbaric act, or say i'd rather not know what goes on behind closed doors in the making of the fur trade, which i myself find even more ignorant!
Naomi and pals lead boom in cruel fur sales
CATWALK queen Naomi Campbell once led the fight against the fur trade.
But the supermodel is now out in front wearing fur as the murderous trend takes off with renewed vigour.
The 44-year-old was pictured wrapped in fox fur at New York Fashion Week.
 However, she wasn't alone.
Chris Brown and Karrueche Tran both wear fur
Singer Chris Brown and girlfriend Karrueche Tran also joined the sickening new legion of real fur fans.
The couple caused outrage as they wore full fur coats at designer Michael Costello's show in the Big Apple, receiving a backlash from animal rights activists as they paraded their pelts.
But how can anything so cruel ever be considered beautiful?
Naomi Campbell was poster girl for ANOTHER PETA campaign
In the 1990s fur was a dirty word and something to be kept firmly in the closet, with celebrities and the high street joining forces to shun the use of animal pelts in favour of faux fur.
At her peak, Campbell posed naked under the banner, "We'd rather go naked than wear fur" for PETA in 1994 — only to be sacked by the animal rights charity three years later for wearing fur in a Milan fashion show.
How things changed!
Breaking her silence on her fur faux pas in Italy's fashion capital, Campbell told the Big Issue in 2000: "I made a mistake with PETA. I found them quite violent and I wanted to disassociate myself from them."
Last December she was branded a "hypocrite", "cruel" and "disgusting" for showing off a Christmas present from Givenchy designer Riccardo Tisci of a fur and snake-skin handbag on Instagram.
Kate Moss is among fur-mous faces
Since Beyonce boldly wore a fur stole in her 2009 Crazy in Love video — straddling Jay Z while he rapped that his "texture was the best fur of chinchilla" — real fur has become centre stage.
But should the use of animals just for their fur ever be acceptable?
With just one coat taking up to 40 animals to make, raccoon, dog, silver fox, rabbit, chinchilla, fox and mink are most popularly used in fur production.
PETA has also revealed that more than two million cats and dogs are killed for their skins in China every year.
Despite the controversy, sales of real fur are on the rise.
Last year Kopenhagen Fur, the world's largest fur auction house, saw 21million skins sold for a total of £1.4 billion.
The down to earth, grounded Stella McCartney stands by her word
Despite the boom, designers such as Stella McCartney, Calvin Klein, Ralph Lauren and Vivienne Westwood refuse to get blood on their hands, banning the use of real fur in their collections.
As a nation of animal lovers, real fur is also out of fashion on the British high street.
Stores including H&M, Zara, New Look, Topshop and All Saints have strict no-fur policies.
Selfridges and House of Fraser are also fur-free.
Perhaps celebs who parade real fur should slink off with their tails between their legs.
It seems the only certain way to avoid a fashion faux pas, is to favour faux fur.
By: Jacqueline Webster instagram.com/jacquelinemaywebster